Brian Bell Wins King of the Wings Prelim at Jackson Motor Speedway
Story By: BRYAN HULBURT / ASCS SERIES MEDIA
Photos By: RACERSGUIDE.COM PHOTO FILES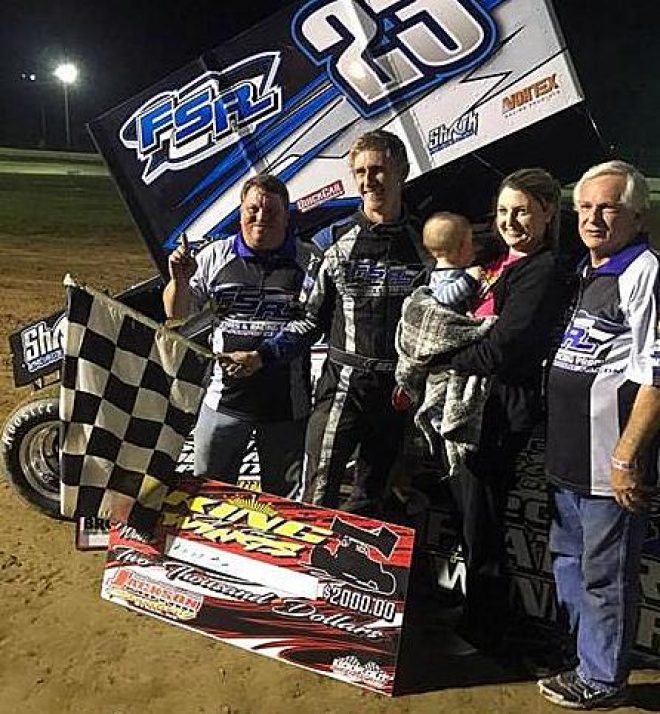 BYRAM, Miss. -April 15, 2017- Notching his fifth career victory with the Lucas Oil ASCS Southern Outlaw Sprints, and second with the Griffith Truck and Equipment ASCS Gulf South Region, Tennessee's Brian Bell parked the FSR Radiators No. 23b in Victory Lane on night-one of the King of the Wings II at the Jackson Motor Speedway in Byram, Miss.
Working from the outside line of the leading row, Bell would stave off several attempts at the lead with most coming on restarts. The final attempt coming with two laps to go would not be enough for anyone to challenge as Bell railed the top side of the Speedway to victory.
Marshall Skinner crossed second thanks to a late race pass on Michael Miller who would complete Friday's podium. Derek Hagar advanced to fourth from seventh with Tim Crawley following from the eighth starting spot.
Louisiana's Dustin Gates was sixth at the checkered flag from 13th with Nick Snyder proving to be the night's Hard Charger with a run from 17th to seventh. Zach Pringle from 12th made it to eighth with Zane Lawrence and Andy McElhannon making up the top-ten.
The second annual King of the Wings at the Jackson Motor Speedway in Byram, Miss. continues on Saturday, April 15, 2017.
For continued updates on the American Sprint Car Series, from the National Tour to any of the seven regional tours that make up the over 150 dates across the ASCS Nation in 2017, log onto http://www.ascsracing.com.
Race Results:
ASCS Gulf South vs ASCS SOS
Jackson Motor Speedway – Byram, Miss.
King of the Wings II
Friday, April 14, 2017
Car Count: 23
Heat 1 (8 Laps): 1. 23B-Brian Bell[5]; 2. 88T-Tim Crawley[4]; 3. 57-Jacob Lucas[2]; 4. 00-Tristan Lee[3]; 5. 2H-Tommy Hall[1]; 6. 52-Cody Karl[6]
Heat 2 (8 Laps): 1. 4M-Michael Miller[2]; 2. 76-Zane Lawrence[4]; 3. 5-Channin Tankersley[5]; 4. 88-Brandon Blenden[6]; 5. 29-Kyle Amerson[3]; 6. 9-Lane Whittington[1]
Heat 3 (8 Laps): 1. 9JR-Derek Hagar[3]; 2. 01-Shane Morgan[1]; 3. 8Z-Zach Pringle[2]; 4. 42-Andy McElhannon[4]; 5. 116-Nick Snyder[6]; 6. 21-Kevin Hinkle[5]
Heat 4 (8 Laps): 1. 26-Marshall Skinner[4]; 2. 21T-Ray Allen Kulhanek[1]; 3. 6-Dustin Gates[2]; 4. 52L-Ray Stevison[3]; 5. 93-Jake Knight[5]
A Feature (25 Laps): 1. 23B-Brian Bell[2]; 2. 26-Marshall Skinner[1]; 3. 4M-Michael Miller[3]; 4. 9JR-Derek Hagar[7]; 5. 88T-Tim Crawley[8]; 6. 6-Dustin Gates[13]; 7. 116-Nick Snyder[17]; 8. 8Z-Zach Pringle[12]; 9. 76-Zane Lawrence[6]; 10. 42-Andy McElhannon[14]; 11. 21T-Ray Allen Kulhanek[4]; 12. 29-Kyle Amerson[16]; 13. 57-Jacob Lucas[10]; 14. 9-Lane Whittington[23]; 15. 52L-Ray Stevison[15]; 16. 21-Kevin Hinkle[22]; 17. 00-Tristan Lee[18]; 18. (DNF) 88-Brandon Blenden[9]; 19. (DNF) 5-Channin Tankersley[11]; 20. (DNF) 93-Jake Knight[20]; 21. (DNF) 01-Shane Morgan[5]; 22. (DNF) 2H-Tommy Hall[19]; 23. (DNF) 52-Cody Karl[21]