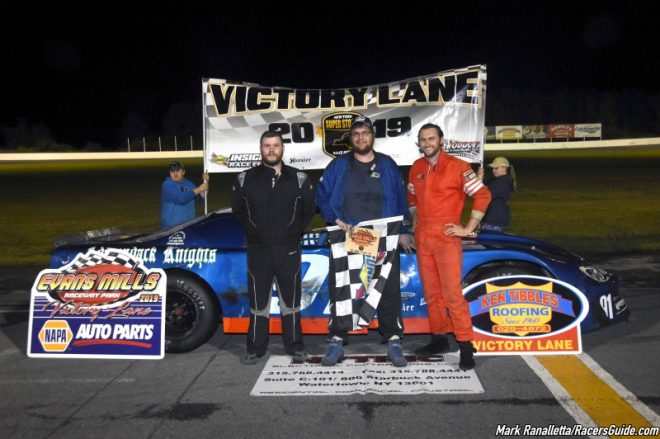 Bancroft Takes Hometown Win at Evans Mills Raceway Park

Story By: Shylo Fuchs/NYSS
Photos By: Mark Ranalletta/RacersGuide.com

After a severe rainstorm would delay racing at Evans Mills on Saturday night all efforts would be taken to get the track back into shape for the Sunoco New York Super Stocks to be able to run their 50 lap main event. Heats would take place and set the field of 23 for the feature.

The race would get underway with current point leader Nick Robinson in his #15 pulling out in front for the early lead over the #75 of Zach Willis. On lap 8 the #09 of Andy Cryan, who had the fastest times in practice, would overtake Willis for the second position and would spend the next 25 laps attempting to take the lead from Robinson. Throughout those laps several cautions would fly for simple spins and yet Cryan was still finding it difficult to pass Robinson.

All the while Dylan Bancroft in his #91, who started in the ninth place position was maneuvering his way through front runners trying to reach the battle between Cryan and Robinson. The track had lost some grip on the top side after the rain making it a bit more difficult for Bancroft to get
passed the #44 of Jake Wylie, the #25 of Joel Gleason and the #75 of Zach Willis.

Lap 30 would present the opportunity that he needed when the #23 of Robert Fink and the #87 of Mike Hyman would get together coming out of 2 and would set Bancroft up for a restart on the outside of row 2 leading to him overtaking Willis and finally breaking into the top three. Two laps later he would pass Cryan and be set to strike for the top spot whenever the opportunity presented itself. And present itself it did, Bancroft would get to the inside of Robinson in turns 3 and 4 and Robinson would see him sail right on through with the #09 of Cryan following right along behind.

Bancroft would be out front with only 10 laps to go but it wouldn't be that easy to get to victory lane. Cryan still had more fight in him and was not going to give the win away to Bancroft that easily. He would give it his all and would get a taste of the top spot for two whole laps however, Bancroft would take it back and hold onto it through to the checkers.
Big Time Service would present the Hard Charger Award to Jimmy Steffenhagen Jr. who would start 21st and finish in the 8th position. Congrats!!

Thank you to all the drivers that participated in the autograph session during the rain delay and track drying. We truly appreciate your time and dedication to the series and we know the fans loved getting to interact our drivers.

Join us for our next race brought to you by Rapid Express on August 3rd at Wyoming County International Speedway. Thank you to our sponsors of the night Ken Tibbles Roofing and Nytric Electrical Contractors and also our series sponsors Sunoco Racing Fuels, Insinger Performance, F/A Products, Big Time Service, Aratari Auto Color, Rapid Express Transport Services and Midstate Basement Authorities.

Feature Finish: #91 Dylan Bancroft, #09 Andy Cryan, #75 Zach Willis, #15 Nick Robinson, #25 Joel Gleason, #54 Amber VanOrden, #28 Jesse Hurley, #3 Jimmy Steffenhagen Jr., #11 Terry Cheetham, #90 Nate Peckham, #46 Cole Hicks, #6 Griffin Miller, #37 Jason Dinzler, #5 Jacob Gustafson, #13 Aaron Higgins, #39 Jim Lamoreaux, #23 Robert Fink, #51 Barrett Schenk, #64 Scott Dinzler, #33 Brianna Dinzler, #87 Mike Hyman, #88 Matt McLane, #44 Jake Wylie

Heat Winners: #09 Andy Cryan, #44 Jake Wylie, #91 Bancroft