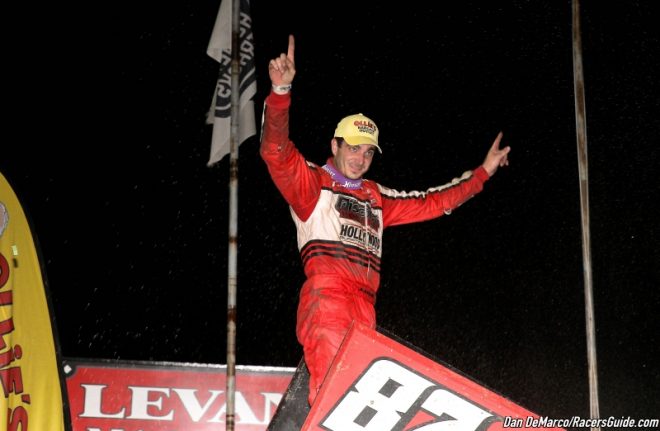 AARON REUTZEL ROMPS IN THE RAIN FOR HODNETT CUP TRIUMPH, MIKE GULAR POCKETS $3,000 FOR MODIFIED CHECKERED FLAG AT GRANDVIEW
Story By: Bob Miller/TOTH
Photos By: Dan DeMarco/RacersGuide.com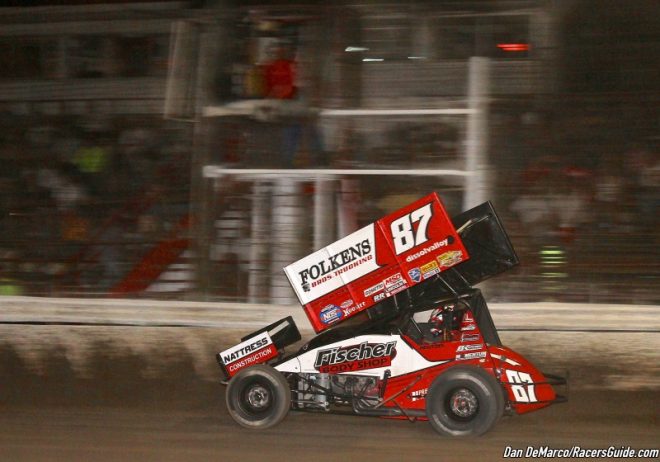 BECHTELSVILLE, PA (August 22, 2019) – It was a wet and wild night of racing at Grandview Speedway on Thursday night, as Levan Machine and Truck Equipment presented the Inaugural Hodnett Cup as part of the NAPA Auto Parts Thunder on the Hill Racing Series. Aaron Reutzel was the winner of the Ollie's Bargain Outlet All Star Circuit of Champions feature earning $5,000 as Mike Gular won the NASCAR 358 Modified main event.
An unexpected rainstorm popped up just after All Star Sprint Car time trials, delaying the action for nearly 2 hours. Track crews worked vigorously, and with the help of drivers and teams, heat race events rolled out just before 10 PM. With a good crowd on hand everyone was determined to make every effort to get the show in and they did.
"We just want to race," Reutzel said graciously thanking everyone during victory lane ceremonies. "I can't thank the fans and the track team enough. We were lucky – and some days I'd rather be lucky than good."
Luck was definitely on Reutzel's side, starting the 35-lap event from the front row alongside Nashville, TN's Paul McMahan. McMahan attempted to slide in front of Reutzel on the initial green flag start – but couldn't complete the pass.
"I'm just glad I was able to get out in front of Paul," Reutzel explained. "If he was able to get me at the beginning this would've turned out differently."
Reutzel powered away to full straight-a-way lead, while Danny Dietrich, Ryan Smith, and Ryan Taylor battled for the third position.
With drivers settling in on an ultra-fast race track, lapped cars proved to a real challenge for Reutzel, a Clute, TX-native – closing the gap between him and McMahan, as laps clicked away.
"The lapped cars weren't really cooperating with me today," Reutzel offered in victory lane. "The track was fast and that was challenging."
While McMahan, aboard the No. 13 machine, was able to lessen the leader's advantage, he would pressure Reutzel, but couldn't get close enough to really challenge.
The yellow flag flew for the final time on lap 26 – a huge benefit to Reutzel – who charged on to claim his second consecutive NAPA Auto Parts Thunder on the Hill All Star Sprint Car victory. Reutzel earned $5,000 for his efforts and added his name to the Hodnett Cup.
McMahan settled for the second position, Danny Dietrich finished in third, Ryan Smith finished in fourth, and Ryan Taylor rounded out the top five.
Ollie's Bargain Outlet All Star Sprint Car Heats were swept by Pennsylvania drivers Ryan Taylor, Brock Zearfoss and Danny Dietrich. Aaron Reutzel set the quick time with 23 cars signing in for action.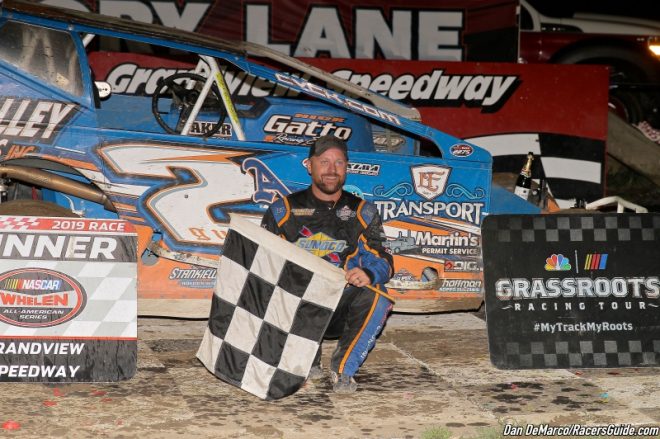 Mike Gular of Harleysville, PA picked up the $3,000 win in the NASCAR 358 portion of the evening's event.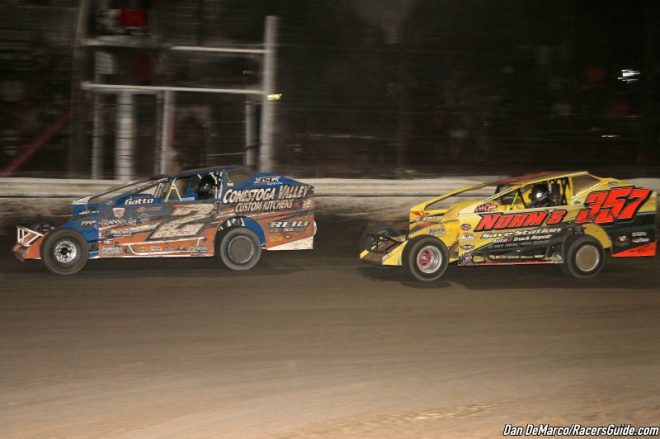 Dylan Swinhart and Alex Yankowski made up the front row of the 30 lap feature event – but it was Gular who took the lead heading down the backstretch of the one-third-mile dirt track, with Duane Howard moving into the second position just one circuit later.
Gular and Howard dueled for the top spot for the first half of the event, before a lap 16 yellow flag slowed the action and reset the field.
A three-car battle for the win between Gular, Howard, and Jeff Strunk brought the event down to the wire.
Door-to-Door drag racing to the checkered flag, Gular picked up the win with Howard in second, Jeff Strunk in third, Craig VonDohren in fourth and Jared Umbenhauer in the fifth position.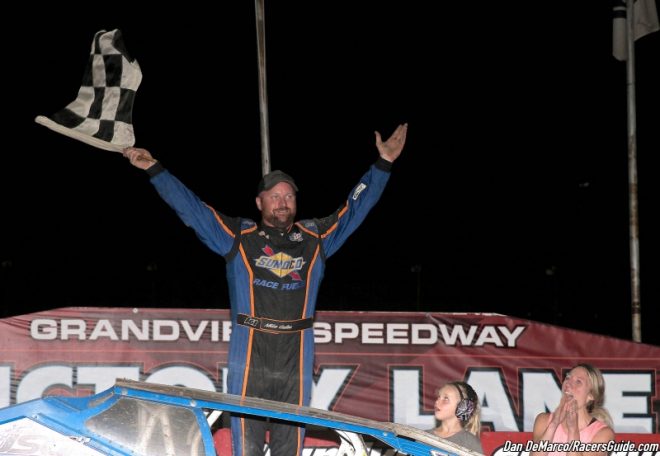 Modified Heat races were won by Doug Manmiller, Jeff Strunk, and Dylan Swinehart. 29 NASCAR 358 Modifieds were signed in to compete.
The NAPA Auto Parts Thunder on the Hill Racing Series returns on Saturday, October 19 with the Modifieds in a Big Block and Small Block Showdown, Sportsman, and MASS 305 Sprint Cars.
For more information visit www.thunderonthehillracingseries.com
All Star Circuit of Champions
Time Trials 1 Aaron Reutzel 11.851 2 Ryan Smith 12.075 3 Cory Eliason 12.1 4 Gerard McIntyre 12.230 5 Ryan Taylor 12.233 6 Skyler Gee 12.246 7 Anthony Macri 12.271 8 Tony Stewart 12.288 9 Dale Blaney 12.290 10 Paul McMahan 12.292 11 Danny Dietrich 12.302 12 Justin Peck 2.339 13 Alan Krimes 12.364 14 Dave Blaney 12.391 15 Brandon Rahmer 12.425 16 Brock Zearfoss 12.514 17 Anthony Fiore 12.565 18 Freddie Rahmer 12.571 19 Kyle Reinhardt 12.573 20 Jeff Halligan 12.626 21 Greg Wilson 12.640 22 George Hobaugh 12.77 23 Brett Michalski 12.851
Heat 1 (10 Laps) – 1. Ryan Taylor 2. Gerard McIntyre 3. Ryan Smith 4. Aaron Reutzel 5. Tony Stewart 6. Anthony Fiore 7. Skylar Gee 8. Anthony Macri
Heat 2 (10 Laps) – 1. Brock Zearfoss 2. Paul McMahan 3. Justin Peck 4. Alan Krimes 5. Freddie Rahmer 6. Jeff Halligan 7. Brett Michalski
Heat 3 (10 Laps) – 1. Danny Deitrich 2. Dave Blaney 3. Cory Eliason 4. Dale Blaney 5. Kyle Reinhardt 6. Brandon Rahmer 7. Greg Wilson 8. George Hobaugh
Dash (6 Laps) – 1. Aaron Reutzel 2. Paul McMahan 3. Ryan Taylor 4. Danny Dietrich 5. Ryan Smith 6. Dave Blaney 7. Brock Zearfoss 8. Gerard McIntyre
Feature (35 Laps) – 1. Aaron Reutzel 2. Paul McMahan 3. Danny Dietrich 4. Ryan Smith 5. Ryan Taylor 6. Dale Blaney 7. Dave Blaney 8. Tony Stewart 9. Brock Zearfoss 10. Cory Eliason 11. Freddie Rahmer 12. Kyle Reinhardt 13. Brandon Rahmer 14. Anthony Macri 15. Jeff Halligan 16. Greg Wilson 17. Skylar Gee 18. Brett Michalski 19. Anthony Fiore 20. Gerard McIntyre 21. Alan Krimes 22. George Hobaugh 23. Justin Peck
NASCAR 358 Modifieds
Heat 1 (10 Laps) – 1. Doug Manmiller 2. Billy Pauch Jr. 3. Craig VonDohren 4. Ryan Watt 5. Briggs Danner 6. Louden Reimert
Heat 2 (10 Laps) – 1. Jeff Strunk 2. Jared Umbenhauer 3. Richie Pratt, Jr. 4. Alex Yankowski 5. Rick Laubach 6. Kevin Hirthler
Heat 3 (10 Laps) – 1. Dylan Swinehart 2. Duane Howard 3. Danny Erb 4. Mike Gular 5. Ryan Grim 6. Jack Butler
Feature (30 Laps) – 1. Mike Gular 2. Duane Howard 3. Jeff Strunk 4. Craig VonDohren 5. Jared Umbenhauer 6. Alex Yankowski 7. Brett Kressley 8. Rick Laubach 9. Briggs Danner 10. Ryan Watt 11. Richie Pratt Jr. 12. Dylan Swinehart 13. Brian Hirthler 14. Ryan Beltz 15. Doug Manmiller 16. Kevin Hirthler 17. Ryan Grim 18. Louden Reimert 19. Justin Grim 20. Ron Kline 21. Jordan Henn 22. Danny Erb 23. Billy Pauch Jr. 24 Jack Butler 25. Don Norris Jr.