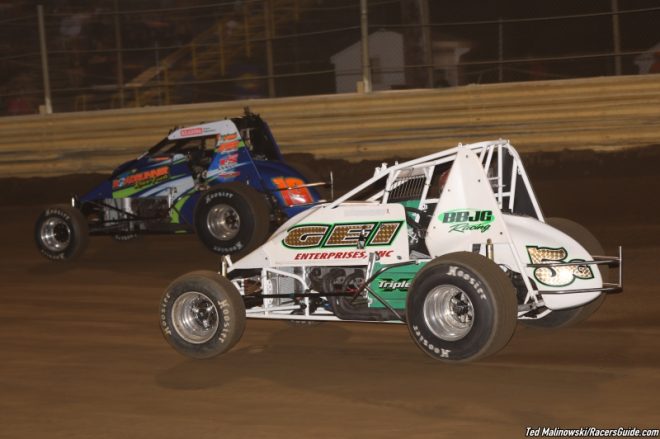 2020 USAC East Coast Tour Shaping Up Quickly
Story By: Nick Filliman/USAC-EC
Photo By: Ted Malinowski/RacersGuide.com
The 2020 Rapid Tire, USAC East Coast Sprint Car Series Schedule will have quite a diverse mixture of speedways to compete at from North to South, and East to West. Drivers will be tested on tracks that are both new too many drivers, and have had series visits in the past.
While the series schedule is not all the way complete, there are a number of big highlighted events already announced, beginning the the tour opener on April 3rd at the Williams Grove Speedway.
The 2019 season opening show unfortunately fell to rain, but the 2020 season will again look to kick off at the fast paperclip half mile as a part of their "Spring Sprintacular" featuring the 410 and 305 Sprint cars also on the card. A can't miss event for any open wheel racing fan.
An early season western trip on April 10th and 11th will see the series return to the Beford Speedway in Bedofrd, PA, before making the trip south to the first ever series stop at the Greater Cumberland Raceway.
On Friday June 26th and Saturday June 27th, the series will make its first venture into the Empire State for a double header of action at two new speedways on both spectrums of the sizing chart. A Friday night stop at the 1/4 Mile Afton Motorsports Park in Afton, NY. Then, on Saturday the series will make its inaugural visit to the legendary Fonda Speedway, The "Track of Champions" for competition on the fast half mile.
The series will make its furthest trip south of the year on Friday July 31st, and Saturday August 1st to the Potomac and Winchester Speedway's. This southern Maryland and Virginia trip will mark the return of wingless action to the speedway's. A trip that used to be a staple on the ARDC midget series in years prior.
In what may be the biggest event in series history, the tour will travel to the Selinsgrove Speedway on Sunday, August 9th for what will be the inaugural event for a pair of series. The USAC Silver Crown Series, and USAC East Coast Sprint Car Series will make their first ever stops to the Selinsgrove Speedway for a traditional sprint car double sure to satisfy any USAC Racing fan.
Following what was widely considered the best race of the 2019 season, two trips to the Georgetown Speedway, in Georgetown, Delaware are on tap for 2020. The first stop coming on July 24th, and the second coming on October 2nd.
There are more dates that have been confirmed with other tracks for the 2020 season, some new, some old. Look for further announcements and dates to be released on our social media pages. On twitter at @USACecsc, and on Facebook at: USAC East Coast Sprint Cars.