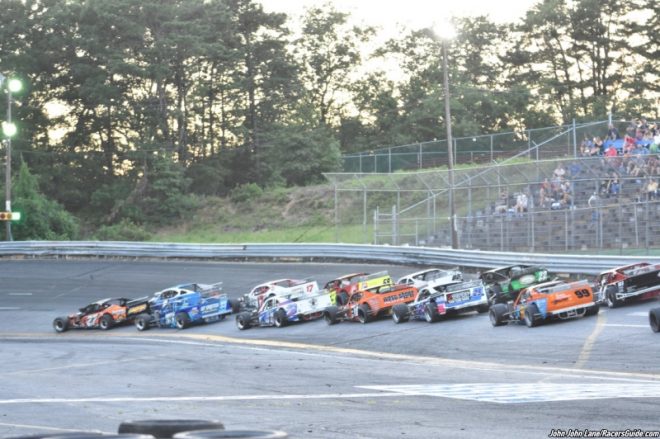 125 LAP MODIFIED RACE AT WALL STADIUM THIS SATURDAY (JULY 27); FORMER CHAMPS TO BE HONORED
Story By: Jeff Gravatt/Wall Stadium
Photos By: John John Lane/RacersGuide.com
WALL TOWNSHIP, N.J. ~ A 125 lap race paying $5,000 to the winner for the All American Auto Group Modified stock cars will be presented this Saturday night (July 27) at Wall Stadium Speedway. In addition to the "Summer Scorcher," approximately 40 former Wall Stadium Speedway champions are expected to attend to be honored in a special meet and greet/autograph session at 6:30 p.m. Among the former champions expected to be on hand are former multi-time Modified title winners Gil Hearne, Charlie Kremer, Jr., Tony Siscone and Dave Michel. (A list of those planning to participate, in no particular order, follows.)
Officials have announced that the evening's qualifying will begin at 5:45 p.m. Once qualifying for the Modifieds, O'Shea's Auto Repair Factory Stocks, Green Flag Driving Experience Legend Cars and Surfside Collision 4 Cylinder Stocks has been completed main event action will begin at 7:00 p.m.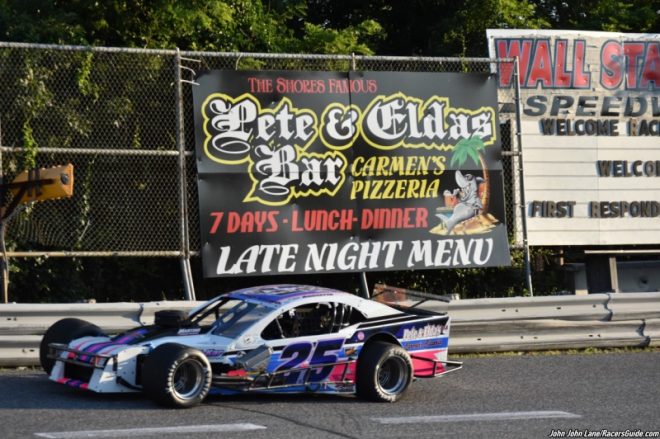 The 125-lap format is attracting the attention of several racers in the Modified division. Former track champion and recent Garden State Classic winner Steven Reed of Jackson is expected to be on hand for the big event as is Andrew Krause of Holmdel, Brick's Eric Mauriello, Mayetta's Tyler Truex, Roger Coss of Lafayette, Jackson's Jason Treat, Joey Merlino of Pine Hill, Manasquan's Kenny Van Wickle, Ken Matlach of New Hyde Park, N.Y. and Derek Hopkinson of Toms River can also be expected to be among the drivers in competition.
The Modifieds are not the only racers in Saturday night's spotlight. The Factory Stocks, 4 Cylinder Stocks and the Legend Cars are all slated for 25-lap main events. In addition, the vintage race cars of the Garden State Vintage Stock Car Club are on the schedule.
Saturday's schedule will see the competitor pit area open at 1:00 p.m. Regular practice will start at 3:00 p.m., while spectator seating will open at 5:00 p.m. Qualifying starts at 5:45 p.m. with main events to follow.
Wall Stadium Speedway is located on Route 34 in Wall Township, N.J., just one mile north of Garden State Parkway exit 98 and Interstate 195 exit 35B. More information can be obtained by visiting wallspeedwayracing.com. The speedway hotline number is 732-681-6400 and email address is CKMotorsports@aol.com.