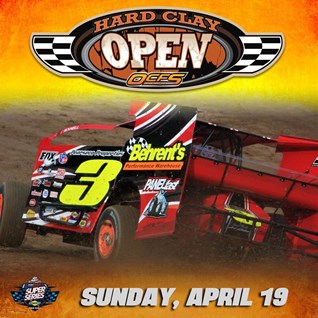 News from the Bob Hilbert Sportswear Short Track Super Series Fueled By Sunoco

Media Contact: Brett Deyo – bdmotorsportsmedia@gmail.com or 845.728.2781

For Immediate Release/April 1, 2020
Orange County Fair Speedway April 19 Short Track Super Series 'Hard Clay Open' Postponed
MIDDLETOWN, NY – Due to the COVID-19 pandemic, the 'Hard Clay Open' at Orange County Fair Speedway has been postponed.
The event, serving as the opener for the Bob Hilbert Sportswear Short Track Super Series (STSS) Fueled By Sunoco Modified Halmar International North Region, was scheduled for Sunday, April 19 at the five-eighths-mile oval.
As regulations are in place for COVID-19 in New York State, OCFS has postponed all racing until at least May 2.
"This was an inevitable situation," STSS organizer Brett Deyo said. "We have been in communication with Brett (Hearn, OCFS director of motorsports) about the possibility of making this event up. At this time, we both agree we would like to run the event if possible but it is very difficult to nail down a date with the situation evolving so rapidly.
"We wish the STSS racing community only the best and we definitely can't wait to get back to the track."
The 'Hard Clay Open' holds the distinction as the first-ever STSS-sanctioned event. The inaugural was run on April 6, 2014 and won by Andy Bachetti of Sheffield, Mass., who went on to win the title that season. Bachetti topped the event for a second time on April 9, 2017.
Other event winners have included Stewart Friesen (April 11, 2015 & May 8, 2018), Tommy Meier (April 2, 2016) and most recently, in his first-ever conquest at OCFS, Matt Sheppard (April 7, 2019).
The next scheduled event for the STSS is set for Delaware International Speedway in Delmar, Del., a Velocita-USA South Region presented by Design for Vision and Sunglass Central Modified & Crate 602 Sportsman event on Wednesday, April 29.
Next up for the Halmar International North Region, both Modifieds and Crate 602 Sportsman, is the 70th Anniversary Race at Five Mile Point Speedway in Kirkwood, N.Y., on Sunday, May 3.
Keep posted to the STSS website and social media outlets for updates on those upcoming events.
To learn more about the 2020 Short Track Super Series Fueled By Sunoco, visit www.shorttracksuperseries.com, e-mail bdmotorsportsmedia@gmail.com, check out 'Short Track Super Series' on Facebook or @ShortTrackSS on Twitter or Instagram.
The Short Track Super Series is presented by American Racer/Lias Tire, Sunoco Race Fuel, Insinger Performance, Bob Hilbert Sportswear, Halmar International, Velocita-USA, Design for Vision/Sunglass Central, Evergreen Fuels Inc., ATL Racing Fuel Cells, Behrent's Performance Warehouse, Beyea Custom Headers, Bicknell Racing Products, Dirt Track Digest, EIBACH Springs, Fast Axle, Henry's Exhaust, Hig Fab, HyperCo, Kirkey Racing Fabrication, Land Hoe Maintenance, K&N, MJK Home Maintenance, Precision Hydraulic & Oil, QA1, Racing Optics, Superior Remodeling, Teo-Pro Car, VAHLCO, Velocita, WELD Racing & Wilwood.
Bob Hilbert Sportswear Short Track Super Series Fueled By Sunoco 2020 Schedule
Halmar International North Region
Sunday, April 19 – Orange County Fair Speedway/Middletown, N.Y. – Hard Clay Open – POSTPONED BY COVID-19
Sunday, May 3 – Five Mile Point Speedway/Kirkwood, N.Y. – 70th Anniversary Special
Wednesday, May 13 – Outlaw Speedway/Dundee, N.Y. – Outlaw Showdown
Sunday, May 24 – Thunder Mountain Speedway/Center Lisle, N.Y. – Lightning on the Mountain
Tuesday, June 2 – Big Diamond Speedway/Minersville, Pa. – Anthracite Assault (COMBO)
Tuesday, June 16 – Afton Motorsports Mark/Afton, N.Y. – Afton Action 50
Wednesday, July 1 – Fonda Speedway/Fonda, N.Y. – Firecracker 50
Tuesday, July 14 – Accord Speedway/Accord, N.Y. – Battle of the Bullring 8
Tuesday, August 11 – Woodhull Raceway/Woodhull, N.Y. – Hustlin' the High Banks 56
Friday-Saturday October 9-10 – Afton Motorsports Park/Afton, N.Y. – American Racer Cup Short Track SuperNationals 13
Thursday, October 22 – Orange County Fair Speedway/Middletown, N.Y. – Hard Clay Finale

Velocita-USA South Region presented by Design for Vision and Sunglass Central
Friday-Saturday March 6-7 – Georgetown Speedway/Georgetown, Del. – Melvin L. Joseph Memorial – WINNER: STEWART FRIESEN
Sunday, March 22 – Port Royal Speedway/Port Royal, Pa. – Speed Showcase – POSTPONED TO OCTOBER 18 BY COVID-19
Wednesday, April 29 – Delaware International Speedway/Delmar, Del. – Diamond State 50
Wednesday, May 27 – Bridgeport Motorsports Park/Bridgeport, N.J. – South Jersey Shootout
Tuesday, June 2 – Big Diamond Speedway/Minersville, Pa. – Anthracite Assault (COMBO)
Sunday, July 19 – BAPS Motor Speedway/Newberrytown, Pa. – York County Nationals
Tuesday, August 25 – Georgetown Speedway/Georgetown, Del. – Blast at the Beach
Friday, October 30-Saturday, October 31 – Georgetown Speedway/Georgetown, Del. – Mid-Atlantic Championship Weekend

Crate 602 Sportsman South Region
Friday-Saturday March 6-7 – Georgetown Speedway/Georgetown, Del. – Melvin L. Joseph Memorial – WINNER: JIM HOUSWORTH
Wednesday, April 29 – Delaware International Speedway/Delmar, Del. – Diamond State 50
Wednesday, May 27 – Bridgeport Motorsports Park/Bridgeport, N.J. – South Jersey Shootout
Tuesday, June 2 – Big Diamond Speedway/Minersville, Pa. – Anthracite Assault
Tuesday, August 25 – Georgetown Speedway/Georgetown, Del. – Blast at the Beach
Friday, October 30-Saturday, October 31 – Georgetown Speedway/Georgetown, Del. – Mid-Atlantic Championship Weekend

STSS Crate 602 Sportsman North Region
Sunday, May 3 – Five Mile Point Speedway/Kirkwood, N.Y. – 70th Anniversary Special
Sunday, May 24 – Thunder Mountain Speedway/Center Lisle, N.Y. – Lightning on the Mountain
Tuesday, June 16 – Afton Motorsports Mark/Afton, N.Y. – Afton Action 50
Wednesday, July 1 – Fonda Speedway/Fonda, N.Y. – Firecracker 50
Tuesday, July 14 – Accord Speedway/Accord, N.Y. – Battle of the Bullring 8
Tuesday, August 11 – Woodhull Raceway/Woodhull, N.Y. – Hustlin' the High Banks 56
Friday-Saturday October 9-10 – Afton Motorsports Park/Afton, N.Y. – American Racer Cup Short Track SuperNationals 13