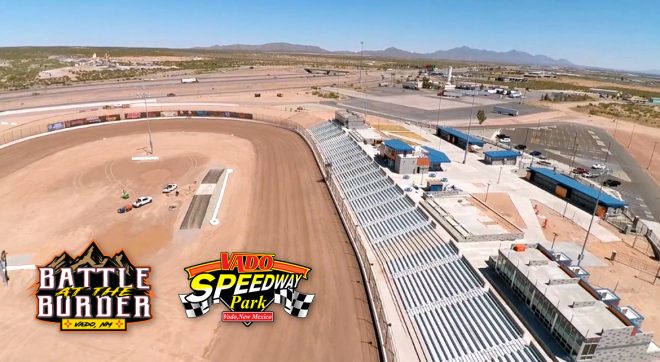 2020 Kicks Off at Brand New Vado Speedway Park
World of Outlaws Morton Buildings Late Model Series Opens Next Season with 'Battle at the Border' Jan. 2-5 in New Mexico
Story By: Jordan DeLucia/WoOLMs
VADO, N.M. — June 26, 2019 — Vado Speedway Park is the nation's newest state-of-the-art dirt track venue, and Jan. 2-5 it will launch the 2020 World of Outlaws Morton Buildings Late Model Series championship.
The inaugural four-night Battle at the Border presented by GottaRace.com, Rancho Milagro Racing, Barnett Harley Davidson and Mesilla Valley Transportation promises to be the event everyone is talking about as not only the opener for the World of Outlaws but also the first high-profile Dirt Late Model event of the new season featuring new teams, drivers, paint schemes, chassis and more.
More than $130,000 will be on the line during the four-night event, opening with a full practice session Thursday, Jan. 2, for teams to shake down their new equipment, followed by three separate points races, including two $5,000-to-win Features culminating with the $15,000-to-win, 50-lap main event on Sunday, Jan. 5., marking the first time the World of Outlaws Morton Buildings Late Models will start a season west of the Mississippi River.
"When you put the World of Outlaws name to anything, it becomes a real show," said Vado Speedway Park GM Rue Stone. "When you come to their events and you see all of the drivers, the haulers, the t-shirt trailers, sponsors, attention and everything else they bring, that's why I chose to go with the World of Outlaws. It's a first-class operation."
New Mexico features breathtaking landscapes at every turn and Vado Speedway Park (pronounced Vah-Doe) is no exception. Designed in part by 2004 Series Champion Scott Bloomquist, the multi-million-dollar facility sits near the base of the 9,000-foot Organ Mountains, delivering the most spectacular view of any dirt track in the country. Paved fan parking, concrete midways, concrete pit pads, stadium quality suites, modern restrooms and concessions, Musco lighting, aluminum seating with wide aisleways and level camping just a short walk to the pits and grandstands only begin to paint the picture. Reaction to the 3/8-mile clay oval — located off Interstate 10 between Las Cruces, N.M. and El Paso, Texas — has been every bit as positive as the staff was hoping for. "You just really have to see it to believe it," Stone said.
"Vado Speedway Park is a remarkable facility built by a passionate team of people, and we are excited to open our 2020 season there," World of Outlaws COO Tom Deery said. "Royal Jones, Rue Stone and their crew have years of experience promoting successful events in the region (Vado had 147 cars for a recent practice night), and we are looking forward to working with them to make the 2020 Battle at the Border a huge race weekend fans won't want to miss."
In addition to a full slate of World of Outlaws travelers including Brandon Sheppard, Chase Junghans, Darrell Lanigan, Ricky Weiss, Shane Clanton, Dennis Erb Jr. and others, many of the nation's top drivers from all around the country will also be turning their first laps of the 2020 season, including Scott Bloomquist, Jimmy Mars, Bobby Pierce, Shannon Babb, Scott Ward, Don Shaw, Stormy Scott and many more.
The Battle at the Border will start a seven-race run that includes the DIRTcar Nationals Feb. 12-15 at Volusia Speedway Park in DeLeon Springs, FL, to start the season for the World of Outlaws Morton Buildings Late Model Series. Competitors' best three finishes from the first seven nights of racing will count toward the overall season championship standings.
"Adding the Battle at the Border is a very progressive move for our brand and series," Series Director Casey Shuman said. "Building an event from the ground up can be a challenging, yet rewarding, experience. I've had the pleasure to work with Rue Stone and Royal Jones, and everything they do is top of the line, and Vado Speedway Park is no different. They have built an amazing facility and it's exciting to have the World of Outlaws be part of it."
Joining the Outlaws in 2020 at Vado will be the Summit Racing Equipment USRA Modified Series and a host of local X-Mod competition.
Tickets and camping for the inaugural Battle at the Border at Vado Speedway Park are on sale NOW at WorldofOutlaws.com or by calling 844-DIRT-TIX! Tickets purchased in advance include a FREE fan pit pass. A three-day reserved ticket purchased in advance is $75, single-day advance reserved tickets are $30. A three-day general admission ticket purchased in advance is $60, with single-day advance general admission tickets at $25. Kids 10-and-under are FREE in general admission. Tickets for Thursday's practice night are $20 and premium camping is $50 Thursday through Sunday. Prices will increase on event day.
A three-day pit pass will be $110, a two-day pit pass is $70 and single-day pit passes are $40. Thursday's practice is $20.
Vado's weekly racing series is already underway, with a host of local and regional touring series coming into town throughout the summer. Click VadoSpeedwayPark.com for more information about the track.