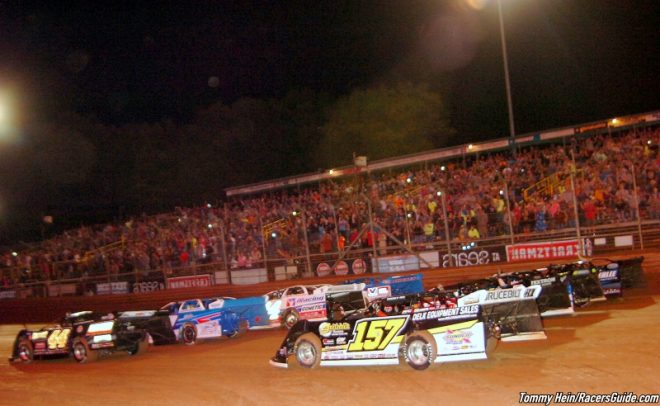 CRUSHIN' IT: Pennsylvania's Michael Norris Aims to Build on Firecracker Glory
Keystone State's Biggest Dirt Late Model Event Set for June 20-22 at Lernerville Speedway
Story By: Jordan DeLucia/WoOLMs
Photos By: Tommy Hein/RacersGuide.com
SARVER, PA – June 13, 2019 – The spoiler on the rear of his car reads "CRUSHER" in bold, block letters with his Rocket XR1 Chassis still donning the now-iconic black/red/yellow #72 color scheme. The young gun from Sarver, PA had always dreamt of standing atop a racecar in Lernerville Speedway's Victory Lane since he was a child. And once upon a time, that dream got fulfilled.
June 22, 2018 is a date that still holds a strong place in the mind of two-time and defending Lernerville Speedway Late Model Champion Michael Norris. A second-best time in Qualifying, a win in Heat race #3 and a pole-position redraw effort set him up for a chance at the biggest win of his career – a preliminary Feature as part of the 12th annual Firecracker 100, on the grandest stage in Pennsylvania Dirt Late Model racing.
Norris grabbed the lead on the first lap and, when the checkered fell over him on lap 50, had given the Outlaws quite a tour of his home track – a place he had won at four times already that season.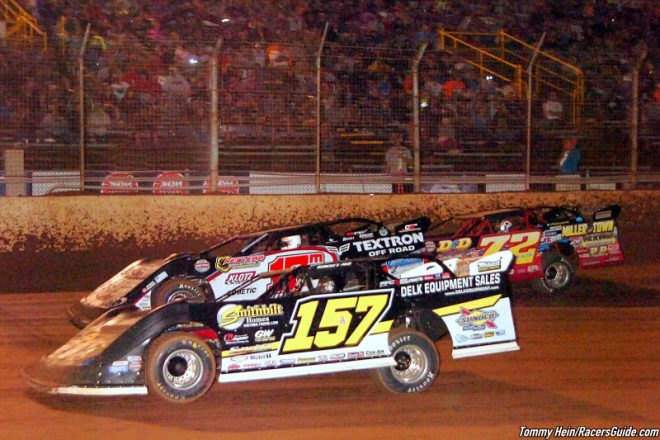 He crossed the scales and met his overjoyed pit crew in Victory Lane, a first-time winner with the World of Outlaws. In the record books, he became the 82nd driver all-time to visit Victory Lane with the Series.
Almost immediately overcome with emotion, Norris stood tall in Victory Lane with Series Announcer Rick Eshelman holding a microphone up to him and let out a gasping "You're gonna have to give me a second."
No, it wasn't the big 100-lap, $30,000-to-win Firecracker finale that Saturday night always boasts. But the gratitude he felt toward his team, his huge fanbase on hand to watch him dominate and prestige he earned that night was all worth far more than the check he received for the qualifying Feature win. It was never about the money. It was about his place in Lernerville Speedway history.
A third-generation driver, now in his 10th full season behind the wheel of a Super Late Model, 27-year-old Michael Norris is the son of Mike Norris, a well-known Late Model veteran around the western Pennsylvania area himself. Michael made his first appearances at the track as an infant, watching his father race on a weekly basis. A handful of years into Michael's childhood, Mike took some time off from the sport to focus on family, but Michael still remained around the racetrack.
"I would still go to the track with my grandma every Friday and watch," he said.
A few seasons spent in the bleachers soon turned into a few seasons spent in the pit area, wrenching on dad's racecar, as Mike returned to racing once again when Michael entered his teenage years. Mike won the final Super Late Model track championship at the now-reopened Latrobe Speedway in Latrobe, PA, before offering the ride up to his son in 2009.
"I had a really close group of four friends from high school that wanted to help," Michael said. "From my sophomore year on, that was pretty much what consumed our lives."
In 2010, Norris got his first Super Late Model win at Pittsburgh's Pennsylvania Motor Speedway behind the wheel of a newer Rocket Chassis, after starting with his father's Rayburn equipment. Ever since, he's been a Lernerville regular.
Alongside his weekly racing efforts came the need to uphold the family business. Norris works a job in his grandfather/uncle's scrapyard, Millerstown Pic-A-Part, and its sister branch D&D Auto Salvage — both sponsors on the side of his car. Part of that job requires the use of a car crusher, which spawned his nickname, "The Crusher Kid."
Norris won his very first track championship at Lernerville in 2017, collecting an impressive five wins in 10 races that year. This success set him up for what would be the most decorated season of his career — a nine-win tear through 2018, eight of which came in weekly competition. In that time, Norris finished in the top two in every weekly race that year except for one.
But the most memorable night of that season goes to the eve of his triumph over the Outlaws. A very popular win amongst the Lernerville fans, Norris recalls that warm, summer night as if it happened last weekend.
"When I was driving, it felt like another Friday night," he said. "I tried not to think about who was behind me. But standing in Victory Lane, with all the hype about it, it really hit me like a tidal wave."
When Norris first began his career in a Super Late Model at Lernerville, he admits that it didn't come to him right away. Much as every other driver experiences first-hand, it takes years of practice and thousands of laps to even begin to master the sport. All of the work he put in to that point to better himself came together over 50 laps, and the jubilance he emerged from the car with that night made it all worthwhile in the end.
"When we first started there, we had a lot of years of struggle, heartache and just plain bad luck. It almost made me hate Lernerville," Norris said. "I hated going there because it was like a pressure cooker. All of my friends and family were around, and we struggled.
"But it pretty much taught me to never give up, and that win was the reward for not giving up," he continued. "At that point in my career, I had, and still have, an awesome crew and great equipment. All of that put together with a little bit of luck showed in that result."
Norris certainly had every bit of his friends, family and crew members' support behind him that night, as well as a father to make proud. He looks up to dad a lot, but also had his childhood heroes that he now stands with on the all-time World of Outlaws Feature win list. Norris recalls watching them from the grandstands as a kid, and now joins them in the record books.
"I remember [Shannon Babb] came to Lernerville on a limb and mopped 'em all up for that one Outlaw race, he was definitely my all-time favorite," Norris said. "I also looked up to Josh Richards, he helped me a lot anytime he was racing around locally. He was always real nice and would answer any questions I had."
In the Norris family, racing is a family affair. Michael's father is his biggest role model, and looking back on that win, he couldn't have been prouder to do what he had always imagined accomplishing with all of his family on hand.
"The biggest thing I was excited about was doing that for my dad," he said. "Growing up, he, my grandfather and my uncle didn't really have a lot of money. My dad just loved racing that much, he did whatever it took to get to the track. He never had very good equipment in his early years. So, to be able to win that for him, that meant the most to me.
"My grandmother and grandfather still go to the track and watch me every week," Norris continued. "To be able to say the Norris family did something like that, that's what meant a lot to me."
Coincidentally, June 22 is the date of the 100-lap Firecracker finale this year, and Norris would love to make it happen again, this time, for $24,000 more.
"I like our chances, for sure. If I didn't, we wouldn't be going," Norris said.
Norris' 2019 campaign, so far, hasn't exactly matched that of his previous two seasons, as a string of bad luck and mechanical failures has left them with only one win through five races. But he sits third in points and still knows how to get around the 4/10-mile just as good as he did last year. It just comes down to consistency.
"Against the Outlaws, you can't struggle in Qualifying and try to dig yourself out of a hole in the heat race and get into the redraw," Norris said. "We just need to go out and do our job and put a whole night together for all three nights, I think that mentality is going to give us our best shot."
With that attitude, and a pinch of luck, "The Crusher Kid" may get to relive last year's dream once again. If he prevails, he'll become the first local driver to win a Firecracker 100 title.
The 13th annual Firecracker 100 at Lernerville Speedway hits the track in one week, June 20-22, with a 50-lap, $6,000-to-win Morton Buildings Feature on Thursday and Friday, culminating with the 100-lap, $30,000-to-win finale on Saturday. The Outlaws will be joined by the RUSH Dirt Late Model Series on all three nights, as part of their unprecedented 50-lap, $10,000-to-win Bill Emig Memorial event.
Come on out to "Sarvertown" next weekend and join the biggest party in Pennsylvania's Dirt Late Model scene with all of the camping, games, food, music and racing you can handle!