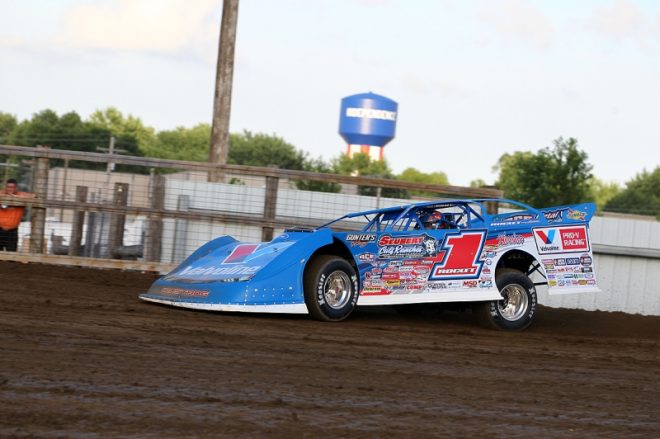 A ROCKET TO THE TOP: SHEPPARD COLLECTS 10TH OF THE YEAR AT INDEPENDENCE
Story By: Jordan DeLucia/WoOLMs
Photo By: Mike Ruefer
INDEPENDENCE, IA – July 5, 2019 – Using a lane few other drivers chose to use throughout the night at the start of the Morton Buildings Feature, Brandon Sheppard showed a packed house of Buchanan County fairgoers exactly why he's known as "The Rocket Shepp." Blasting off around the outside of Iowa-native Chris Simpson on lap four, Sheppard ran away with the lead and dominated his competition over 50 laps at Independence Motor Speedway to collect his 10th World of Outlaws Morton Buildings Late Model Series win of the season on Friday night.
"Everything's clicking right now, that's what it takes to stay on a roll as long as we have been," Sheppard said with a large crowd of family, friends and fans surrounding his Rocket Chassis #1. "It's just a lot of fun right now, especially with this month-and-a-half long trip we've got upcoming here, it's definitely good to get the first win out of the way."
Getting this first win as part of the Northern/Midwestern swing definitely goes as a plus for the team, as they continue their march toward history and the single-season wins record of 18, which Sheppard shares with his predecessor in the Rocket Chassis house car, Josh Richards. He usually doesn't let those outside statistics distract he and the team, and this one is no exception. However, Sheppard has never felt more in-sync with his crew, and knows he'll have a good shot at the record come the end of the season.
"It's a long year, a lot of things can happen," Sheppard said. "As long as we can keep doing what we're doing early in the night, qualifying good and running up front in the heat races, we should be fine."
This makes back-to-back wins for the Rocket1 Racing team, as they also picked up the win last Friday night at the Terre Haute Action Track vs. the stars of the DIRTcar Summer Nationals. But some of the home-state stars also came out to race on Friday night, and what an effort Simpson put in, in front of his family and friends that came from just over an hour away from his hometown of Oxford, Iowa to see him battle the Outlaws and pick up a solid second-place finish.
"Oh, it's huge," Simpson said with an equally large crowd of familiar faces surrounding his Hoker Trucking #32. "Anytime the World of Outlaws comes into Iowa to race, I always want to do well. One of my main sponsors is from this town, so I was wheeling the Modified and then doing [my Late Model] here too. So, to run good here tonight, it's cool for them to see it."
Simpson was pulling double-duty in a locally-owned Modified as well as his Late Model on Friday night, showing his mastery of the 3/8-mile and confidence in his driving abilities to get it done in multiple classes.
In the early going, Simpson shot out to a sizable lead before Sheppard caught him and made the race-winning move on the high side. Simpson began to reel in Sheppard when Sheppard got stuck behind lapped traffic but was unable to make a move before caution flags began intermittently flying throughout the race.
Despite not being able to get underneath Sheppard to make a move, Simpson showed a lot of strength on Friday night, defending his previously set track record and picking up his first PFC Brakes Fast Time since 2013. From there, he won his Drydene Heat race and redrew the pole that set him up for a great run.
Perhaps one of the most interesting storylines that developed over the course of the night surrounded the "B1 Bomber" Brent Larson. Setting fifth-fast time in Qualifying, Larson went on to win the very first Drydene Heat race of his career, behind the wheel of his appropriately sponsored Drydene #B1.
But his success didn't stop there. Larson redrew the outside pole for the Morton Buildings Feature and held his own for 50 laps, crossing the line with a solid fourth-place finish to garner his first-ever top-five in World of Outlaws competition.
A runner-up in Rookie of the Year points last season, Larson gathered eight top-10s, but fell short of any top-five finishes. This year, things are different – a new sponsorship and a whole new attitude for Team Drydene has given Larson a great run to be proud of and build on as 2019 progresses.
"We've been continuing to get a little bit better and better every night," Larson said of he and his crew's efforts. "We've had some good lap times in the Features, we just haven't been able to put a good run together. But I think being around our home turf, this is a sign of things to come."
Larson, a Lake Elmo, Minnesota-native, will certainly feel right at home when the World of Outlaws heads to Deer Creek Speedway in Spring Valley, Minnesota on Saturday – a track he finished 10th at last year.
Wrapping up the podium was a driver who hadn't seen the top-three since the end of May – Chase Junghans. The ShopQuik #18 pilot last graced the podium with his runner-up finish at Cochran Motor Speedway and has been knocking on the door for his third-career World of Outlaws win all season.
"The last swing we went on was not good, but we regrouped last week, went through everything and changed some stuff that we saw. I know we're going in the right direction. We go to a lot of Midwestern tracks that I like racing at coming up, so we're looking forward to having a good swing," Junghans said.
Catch all of the Outlaws back in action tonight, July 6 at the Deer Creek Speedway in Spring Valley, Minnesota for the Bigelow Homes Gopher 50, live on DIRTVision!
ABBREVIATED RESULTS
Morton Buildings Feature (50 Laps) 1. 1-Brandon Sheppard [3][$10,000]; 2. 32-Chris Simpson [1][$5,000]; 3. 18-Chase Junghans [5][$3,000]; 4. B1-Brent Larson [2][$2,500]; 5. 16-Tyler Bruening [6][$2,000]; 6. 28-Dennis Erb [8][$1,700]; 7. 29-Darrell Lanigan [10][$1,400]; 8. 25-Shane Clanton [12][$1,300]; 9. 7-Ricky Weiss [4][$1,200]; 10. 97-Cade Dillard [11][$1,100]; 11. 99B-Boom Briggs [9][$1,050]; 12. 6-Blake Spencer [18][$1,000]; 13. 43-Jeremy Grady [16][$950]; 14. 22B-Jonathan Brauns [14][$900]; 15. 10-Paul Parker [19][$850]; 16. 58-Dave Eckrich [17][$800]; 17. 25s-Chad Simpson [7][$770]; 18. 29D-Spencer Diercks [13][$750]; 19. 87-John Emerson [20][$730]; 20. 98-Jason Rauen [15][$700]; 21. 17-Tim Simpson [21][$700] Hard Charger: 6-Blake Spencer[+6]